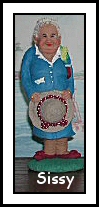 SISSY
Sissy and Momma are now "twin" sisters. The year of the great fire in Crunkleville...all birth records were destroyed. Everyone knows Sissy was always
the older of the two. Why, I remember Sissy as a toddler the night Momma came. But, since city hall records were burnt to a crisp, Sissy now insists...No,
Momma was born first. Well, in order to keep peace in the family we decided to call them "twins".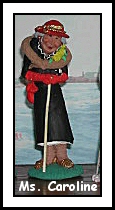 Ms. CAROLINE
An aristrocrat...comes from "old money," I'm sure. Many a beau can still be heard singing "Nothin can be finer than to be with Carolina in the morning".
Caroline taught school for years. No telling how many lives she touched through the years, both young and old alike.