LEN
Len is a sweetheart. Kindness radiates from his perpetual smile. Len was the inspiration for a senior, day care center know as "LENdahome". Yes-sir-ree,
Honest, he is the Len in Lendahome. Fact, not fiction!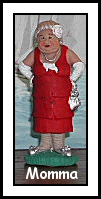 MOMMA
"Put on your red dress, momma." A few bars of that ole song...and momma is ready to do the town. She loves to dance. I know for a fact Momma is 80 on
the outside but closer to 60 something on the inside. You go girl !