CRUNKLEVILLE INQUIRER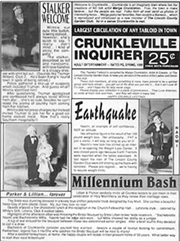 This tasteful tabloid is compiled by Marge Crunkleton; artist and creator of the Lincoln County Garden Club, to keep you abreat of the antics of the ladies and gents in the club.
Theses club members, all sixty-something and more, have proved to be a spirited group and have shown... you get out of life what you put into it... that it ain't over til it's over... and I hope the fat lady never sings!

Just remember you only get old once...
so let the good times roll!
Marge sculpts a new club every year (Health Permitting), has them reproduced in North Carolina... then hand-painted by local artisans, in anticipation of their "Final Resting Place" in your hearts and homes.
Each new club is pictured and featured in a new Crunkleville Inquirer Tabloid and given free with your member purchase.
P.S. Come Crunkle-lect with us as we smile away those inevitable senior moments.